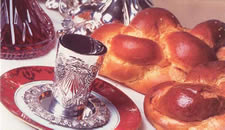 Enjoy an elegant Shabbat dinner in a unique and intimate setting. Dine on traditional Shabbat delicacies, sing beautiful Shabbat melodies that will warm your Jewish heart… and save room for a L'chaim or two!
For a memorable Jewish experience be sure to make your reservation today! Call 541-482-2778 or email us
Our home is open to all, and we do not charge our guests. However, we encourage you to contribute towards our activities; your generous help will enable us to keep our home open and assist many more visitors in the future.